To unofficially announce the beginning of the holidays and to get everyone into a festive mood, Coca-Cola has come up with a cheerful idea. A huge truck, painted bright-red, showcasing a Coca-Cola advert, with Santa Claus, Christmas lights, Coca-Cola printed in bold letters and a hashtag HolidaysAreComing, will be stopping near you very soon.
That's right! The Coco-Cola truck began its full UK tour on the 11th of November and will be stopping at 42 different locations in the UK, before it comes to an end, on December 17. Starting at SilverBurne Centre, Glasgow the truck will go across the country with Lakeside, Essex, being its last stop.
Tour dates Will the Coca-Cola Christmas Truck be coming to a town near you? Here's where we'll be stopping this year:
So what is it on this Coca-Cola tour for the public? This major Christmas promotion welcomes the involvement of visitors. Guests are invited to enjoy an enchanted winter wonderland and then go on to get their pictures taken with the very special truck. And of course, a Coca-Cola advert wouldn't be complete without giving away free cans of coke! So, on top of all this, Coca-Cola will also be giving away 150 ml cans of Coca-Cola Zero Sugar, Diet Coke or Coca-Cola Classic, at each stop.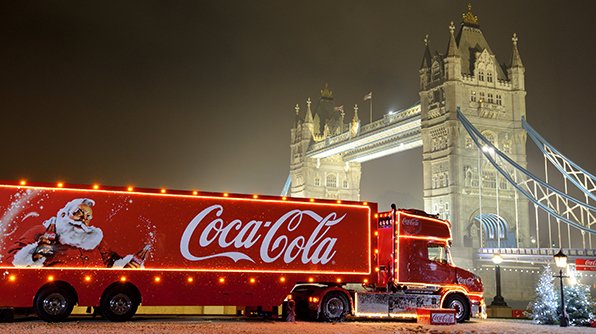 There is also a special feature for the guests who visit at sunset. With the sun going down, the Coca-Cola truck brightens up with a special animation to celebrate the real magic which Coca-Cola promises to bring to Christmas.
Being a strong advocate of recycling, at each truck stop, there will be a recycling call-to-action to inspire guests to recycle the used Coca-Cola cans and bottles. This is in sync with Coca-Cola's recent advertisement about recycling, called the 'Love Story'.
Since the Coca-Cola truck will be going on a set route, it's understood that not everyone will be able to join in the festive fun. This is why Coca-Cola has introduced #HolidaysAreComing emoji. Anyone can get take part through Twitter and by posting pictures with the Coca-Cola festive filters, on Snapchat or Instagram.
HolidaysAreComing