I passed my module 2 theory test first time with just two weeks of study thanks to the software they provide to prepare for the exam. Very friendly and helpful staff. Lots of good advice in getting qualified and started as an HGV driver. I was looking for a change in direction at work and after speaking with Richard from HGV Training Network I started my career change. Could not have done it without him, very supportive and explaining in details everything. Help and support throughout. It's a steep learning curve when you start, but well worth it. Best wishes for the future and thank you again. Chris, Richard were brilliant spoke almost every week everything booked. Theory test study was really helpful aswell. I failed 1st time with the practical but you get a free retest so i passed 2nd time would highly reccomend this company Ben, Richard and Sarah are first class. Super helpful, relaxed, not pushy and very personable! I will be going back to them for further driving education in the future, for now it's onwards with my Class 2 license. Thanks once again guys! The company were very supportive from the initital process, Ben and Richard were very knowlegable, and Richard personally supported me throughout the whole process. The team have been very supportive throughout my course, very knowledgeable From start to finish Richard and the team were first class arranged all my appointments i needed with no fuss or bother whenever i needed advice they were there even if i rang or sent a message they would reply within minutes excellent service when i passed my test Richard was on the phone within an hour congratulating me and giving advice on what options i now have going forward in my opinion above and beyond would highly recommend thanks to all the team Great service provided by HGV Training Network! Russell and Richard were great they have a wealth of knowledge and experience between them that made my whole experience smooth. From start to finish great communications, course information and trainer's helped me achieve success on my theory and practical assessments on my first try! Brilliant communication every step of the way from signing up, through medical, theory, CPC and driver training. Received revision material for theory and follow up phone calls after each test.The guys have been an absolute delight to speak to every step of the way. Thank you. Very good reliable place to get started with the hgv work started my class 2 with them and with the help of Richard and others I got set up and away , now passed first time and onto bigger and better Thank you HGV TN. A really professional company. All my calls were answered immediately and I felt supported at every stage. I highly recommend this company. I had my CPC test through them, and I was more than happy with the whole experience. Everything was easily explained to me and I've passed the test on the first time. Absolutely amazing!! Did My driving passed and now going to bigger and better things! Thank you so much to Richard and Chris for helping me get there! HGV Training Network are an amazing company. They helped and guided my son who has Aspergers through his training, step by step, at his pace, and made adaptions where they could to assist him with his motivation, because it has taken him 3 years. This is through no fault of his - Covid, DVLA issues and an influx of people wanting to be drivers. But they, as I had complete faith in him. He passed last week and is now fully qualified and looking for work. RICHARD ALLAN you are an absolute diamond, my son and I cannot thank you enough and would 100% recommend YOU and HGV training network as a brilliant company. They really do care about their customers and are extremely professional. Very good company to helping me out to first lgv licence..top class This is it! That's the team to transfer you to the Lory Driver. The Instructors are willy professional. Special thanks to Stephen and Luke!!! Gave the company a call just to get some advice, ended up speaking with a guy called Richard Allen (awesome guy btw). After listening to what he had to say I took some time to decide if it was for me, decided to go for it an it turned out to be one ot the best things I've done. I booked 20 hrs in class 1 gotta top quality trainer from rsm called rus who is really a great guy easy to get along with, professional and made me feel comfortable and relaxed. He just reminded me of hank from breaking bad 😆 🤣. Rang Richard back after I passed 😉 had another great phone call with him, he left me with a contact for potentially getting a new job aswell. Big 👍👍 to HGV Training Network. Friendly helpful staff Thank you Everyone is so helpful with booking and sending everything you need for a HGV course! HGV TRAINING NETWORK is very good school with a strong team and good knowledge Thanks guys (Ben Richard and Andy the best instructors I pass whit only 3 small mistakes 😀 👍 The people working for HGV Training Network are a credit to their company. Predominantly, I dealt with Richard, however at the beginning I was also assisted by Chris and I spoke with Sarah a few times throughout my training as well. Whenever I called they were always on hand to help and, if not available, called back right away. Their material is set out in a way which makes it easy to follow and they always explained things fully and in a way which made me confident at every stage. Richard is a great guy and always had time for a quick chat and a laugh whenever we spoke. Due to a change in jobs I had to put the training on hold for a while but when we touched base around a year later he remembered everything about my family and personal circumstances - that's what I call going the extra mile and someone who cares. A huge thanks to you all, I couldn't have done it without you. Until next time. Scott Friendly staff. Organised professionals. Would recommend if you require HGV Class 1 & 2 licensing. From the very beginning, HGV Training Network have been amazing. Their super friendly team are extremely knowledgeable of the entire process and were on hand every step of the way to make for a stress-free training programme. Would highly recommend their service to anyone looking for a career change like I was. A+++ Very friendly and helpful, Answered all my questions with perfection. Every one who i interacted was very delightful and always made me smile and laugh. really would recommend tthis to any one who is interested in a HGV/LGV career. I had an excellent experience with HGV Training network, I passed my theory, and practical tests first time, and would highly recommend using them HGV Training have been amazing. Ben & Richard helped me from start to finish. They booked everything for me, making my experience very easy and straight forward. From booking my CPC & Medical to providing training material to help pass my Theory test 1st time. They were just a phone call away if I needed them. I Passed my Class 2 test 1st time and Richard put me In touch with future employees. Thanks again for everything you have done for me 👍. Highly recommended From Start to finish, one the best companies I have done my training with, I could say it was a breeze. People there were very helpful and happy to help with any issues that had arisen. I went with HGV training network to aquire my Category C Licence, from the start they have been very helpful providing me with all the forms and advice needed to start the process of becoming a HGV driver, they provided me with all the training material necessary to pass my theory test and the theory part of my CPC. I couldn't recommend them enough with a special thanks to Richard and Sarah for all the help and information I've recieved from them. Best decision I ever made ringing HGV Training Network, Richard and the team were super helpful and was with me every step of the way! I would highly recommend this team to anyone wanting to advance Wonderfull company, I did my training for class 2 through these guys in January. Passed first time. They give you all the materials you need to pass and are a wonderfull bunch. Professional and keep you informed along the way. The whole process took a bit longer for myself due to delays with the DVLA, but I was kept informed all the time, thanks for all the help and support you gave me! Really worth while going through these guys if your looking to do your HGV licence. Got mod 4 here good company definitely recommend. Very fast helpful team thanks for helping me become a lorry driver. Kind regards Dan. Outstanding set of people, constantly going out their way to help, gave me all the tools I needed to get my licence. Can't thank them enough for making it as easy as possible Thank you for a great course, and for all the help and support you gave to my partner. Highly recommend this company for their excellent courses. Richard was really helpful throughout. A big thank you to Richard and all the team at HGV training network for getting me through all the training. It was organised and done very well with plenty of information and help when you need. Brilliant personalised service. Every phone they knew it was me calling. Easy conversations with knowledgeable individuals. Each process fully helped with from start to finish including filling out forms, great for someone who is working whilst taking this on. Great company to go through HGV Class 2 course with. Give you plenty of information, guidance and help along the way. Big shout out to Richard he was he was class all the way through my class 2 training, thanks Richard 👍 I was sitting for hours trying to find a way to achieve my goal of being a hgv driver in a way that I could still support myself and my family financially, The team explained all the steps that I could take and explained I could go on a payment plan. One of the team were always at the other end of the phone if there was a problem or a question and stayed with me every step of the way. I would highly recommend this company to friends or family or anyone that wants to go through the hgv training route. Huge thank you to HGV Training network and their team very supportive and helpful, straight forward process to get a HGV License, worth the money and time 👍 Great company to do your HGV with I booked on the 27th of January this year and had it all done by the 23rd of March. They support you every step of the way would highly recommend. Quick easy informative always up for a good laugh on the phone with any queries regardless of how stupid it sounds so glad richard has helped me on my way to becoming a proper hgv driver. Very happy with the service I got from hgv training network everything was explained and made all the process very easy step by step would recommend to family and friends. Ender Bin Murad Bin Muhharem
16-03-22
Excellent service, takes all the confusion out of the process as they sort everything for you. even when training is complete they still offer to help out with any questions you may have. highly recommend. Passed my Class 2 recently and HGV Training Network have been nothing but fantastic from the start. Every booking has been smooth and simple. Richard and Sarah have always kept in contact every step of the way and always congratulated myself on each part passed. 5 stars for a 5 star service. Highly recommended. Big thank you, to you all for your support over the past 6 months great experience. I decided I wanted to further my driving qualifications and experience to HGV level, and I approached the HGV Training Network. My principal contact has been Ben, and he has been fully supportive, and has ensured the availability of all the resources I required. With the organisation's encouragement, I succeeded in passing my theory test first time. I am not able to praise my experience to date highly enough. Richie Nightingale
03-03-22
I decided I wanted to change my career and become a HGV Driver. With the support of HGV TRAINING NETWORK, I was able to get my Category Class 2 License first time round. Chris gave me a better understanding and explained step by step what I needed to do. I was provided with resources for my CPC Module 2 theory test in which I passed first time. Also, Richard got me booked in pretty quickly for the test and kept me updated whenever there were any changes to the course. After I passed my test, Richard was fantastic. He advised me on the different areas of the industry I could work in and overall, I definitely felt supported by HGV NETWORK the whole way through. Beverley Owoo-Grant
02-03-22
Very helpful staff ..Richard planed everything for me . And helped me with any issues or problems I had.. great guy big thumbs up would recommend hgv training network to anyone thinking of taking their lorry training Very chilled atmosphere, helps with you taking in everything that you are being taught. I would and actually have recommended others to use them. Very helpful with any questions you need answered. All round a very good company. Upon leaving my old place of work, I finally thought, it's time to get my HGV class 2 licence. I contacted the HGV training network, and was put through to Richard. The whole experience start to finish over the last 5 months has been great. Richard explained in detail every step I'd be going through, from my medical, to my final driving test. I've just passed my class 2 test yesterday and I'd like to thank the whole HGV training network as they've been great all around. Would highly recommend. Very friendly and courteous Everyone are amazing, really helpful, professional and always up for a laugh tell richard your bad jokes he loves em thanks a lot guys I would like to say how much I appreciate the service I received at HGV training. The love and care you give to everyone you treated me like a family despite you never meet me. I would like to thank especially Richard, Sara and Chris God bless you all you really are amazing. I would recommend HGV training network to everyone I know and everyone who's thinking of obtaining HGV license. Assouman Muhirwa
08-02-22
Many thanks for the help and support this week. Very professional and personnel touch. Regards Chris I did my Cat C license through this company, great communication all the way through, professional and there to see you all the way through your course 👍 Best place to go for your HGV license. They are professional, quick, honest and will help you all the way. The training material for theory test is extremely easy to use and understand and the professional driving instructor on their panel is one of the best instructors I ever had. Their aim is to get you qualified in first attempt and they make sure you get the right knowledge and experience to pass your test in first attempt. Thanks for everything Richard ( HGV Training Network ) and the Driving instructor Andy. Can't fault this company, they set up everything for me as quickly as possible.the communication is great, any questions I had they were there to awnser and would always call to check up on me after my tests to see how they went. Can't knock them at all! Very friendly, professional and helpful thanks to RICHARD ALLAN 👍 5***** Thank you for everything - I Passed first time Sent a full starter pack with everything I needed and the team called me after every step to make sure I was ok and things had all gone well. I did my training in Wigan with an amazing team there and I'm really glad the HGV training network were able to place me with this contact. As long as they help me with employment now I'd say they've done their job from start to finish without a hitch ! Thank you so much to all of you X Correct, helpful, quick communication. Recommended service! Very Friendly & Professional Guys, 10/10 on the customer service, Would highly recommend them. There always available, no questions to small no matter the enquiry I decided to go with the HGV training network to start my career change. I'm so glad I went with this company, they have been brilliant throughout, stayed in contact often to check how I was doing and offered a lot of support. Richard has been amazing, he explained all the steps I had to take and gave a lot of advice. I'm now a fully qualified HGV driver all thanks to the HGV Training Network! Rachel Ellen Bridgeman
15-12-21
Helpful, all staff was great!! Thank you very much! Feres Iussif Santos Lauar
10-12-21
I was in 2 minds whether to organise the whole setup independently or via hgv training network, merely the fact of the cost, however I'm so grateful I chose to go through hgv training network as from filling out paperwork and sending off, to booking all the appointments that reduce waiting times and informing when to call them back to let them know of steps completed to passing and receiving the congratulations phone call, couldn't be a better experience. I had condemned myself to 2 hours daily for learning all the online equipment as i had quit my previous job a few months prior so I was doing other work in between and with 4 months of doing so the online tests were a breeze through and then with the instructors training the cpc and reversing test was completed successfully to then only incorporate 3 minors of 12 on the practical test All done within 6 months from the first phonecall to receiving the pass A huge thanks to Richard and the team at hgvtn for the help in the booking process as I think that is a hard bit and to robinsons training for the great experience of becoming a professional class 2 driver You get what you pay for in any circumstance so don't hesitate on the cost, it will soon pay for itself Thanks I first spoke to Ben, Chris and Richard. All of them fantastic guys. They support me to do LGV refresher training in a very effective manner. Now, I still getting the support from them mainly Richard who is working hard to get me behind the wheels. So, I really appreciate your efforts guys and I thanks the entire team for looking after me and others. Big thanks from Odair Have been amazing helping me through the process especially Richard always been there helping along the way thank you so much Great people helpful friendly service definitely worth a ring if your interested in upgrading your license 👍 What an amazing team !! These guys helped me get my HGV booked in no time and helped me thru out the whole process. HIGHLY RECOMMENDED !!!! Hi , I just done my cpc 5 day renewal online , i was a bit skeptic to do online but that is how is going in today , surprise me im very satisfied ,instructor are great at communication , good conversation , learn new thing, refresh grey areas , my contact recruit manger Richard was very helpful al the way true the course and after , i highly recommend this company u will not regret it thank u A Torok good contact, a professional school, prepares me well for the practical exam, I recommend it The Work and Health Programme is a voluntary employment support programme designed to help people with a health condition or who are long-term unemployed manage their health conditions, develop their skills and gain sustainable employment. Covering the Home Counties, the Work and Health Programme is different from other employment programmes because it recognises that everyone is different, it is not a "one-size" fits all approach. Since the start of the Covid-19 outbreak Shaw Trust has worked closely with its participants and partners to ensure individuals receive the support they require during these challenging times, introducing a remote service of both health and pre-employment training. As a Support Manager, my role is to signpost and support my participants through their barriers into employment. As well as working with health and skill provisions, I also try to source training providers myself to reflect the needs of my participants. Which is how I came across HGV Training Network online. Their website was clear and simple; I filled in an enquiry form online and they were able to call me back on the same day. HGV Training Network have been responsive and attentive from the get go. My request was not the easiest and it was proven to be a huge challenge for my participant and myself. My participant, who is deaf wanted to complete his HGV training to be a Driver, a profession he has done years before. With COVID, finding a face-to-face training provider was difficult. However, Chris at HGV training Network was supportive and positive from the beginning and was confident they could help us. Shaw Trust are able to provide and fund for BSL interpreters, which overcame the main barrier of communication and ensured the learner was able to benefit 100% from the training. But we needed to find a Training provider that would be adaptive and able to accept two BSL interpreters to attend the course alongside the Trainer in the classroom while conducting the training, which with COVID restrictions in place wasn't easy. Despite this, HGV Training Network were able to support, with Chris's patience and my organisational skills to the test, we were able to book BSL interpreters to accompany my participant in his week's course. My participant has since obtained his qualification and has thanked both HGV Training Network and Shaw Trust for their support. He is now looking for employment and Shaw Trust is continuing to support him through his journey into employment. In conclusion, I would highly recommend HGV Training Network to any charity, to my colleagues and especially to any participants wanting to complete their HGV training in the future. Yours sincerely, Silvie Bathany Support Manager Silvie Bathany - Shaw Trust
21-10-21
I spoke to Chris originally and then Richard. Both fantastic lads, great company dead easy to communicate with made the whole process really effortless Richard has continued to keep in contact with me the entire time I was training, he rang to congratulate me less than an hour after my test and is now helping us find work. Top notch this place! Thanks Dan We have been using the HGV Training Network as our sole supplier for license acquisition from BE to C/CE for approximately the last eighteen months. To date the team at HGV Training Network from bookings through to the quality of the trainers supplied has been impeccable and we have had high success rates on our team members licence acquisitions. In my opinion the HGV Training Network as a whole have been professional, accommodating to last minute changes in requirements, communicative back to myself as to each delegate's progress throughout their licence acquisition journey through what has been an extremely challenging fluidic time during a worldwide pandemic. The customer service provided has been second to none. I am more than welcome to associate Pickerings to, what is in my opinion, an industry leader within the training sector for HGV licence training. If you require any further information regarding our experiences of gaining nine HGV drivers via HGV Training Network, then please contact me via the methods listed below.Yours Sincerely Mr Nicky Smith National Training Manager nickysmith@pickerings.co.uk 07809163722 Nicky Smith - Pickerings
20-10-21
Massive thanks to HGV Training Network. The whole course has got me through to a Cat C pass first time round and their choice of practical instructors was spot on!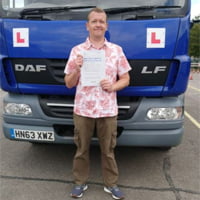 Couldn't recommend this company enough, everyone was brilliant and so helpful throughout every step of the process. Eric would answer my calls and answer my questions before signing up for the course, never pushing me to sign up and letting me make my own decision. It unfortunately took me much longer than expected to get my class 2 due to covid and lockdowns but Richard would always inform me as soon as he himself knew and was willing to sit and search through multiple test centres to get me the closest possible test date, and would always be willing to help me if I needed anything or had any questions throughout the whole process. Overall had an absolutely brilliant experience and would strongly recommend to everyone to do training with this company.

Harvey Edward Smith
18-08-21
HGV Training Network have been absolutely fantastic for me while completing my Class 2 and CPC. When I joined I was in the process of starting a new job as well as studying and then a pandemic hitting. In that time, HGV Training Network and Richard who I dealt with have shown nothing but patience when I have had to cancel or move dates through fault of my own. They were totally understandable and put me under no pressure what so ever which made me feel so comfortable. Richard has been like a mentor to me, he was always so understanding of my circumstances and I always felt if I had an issue or a question I could always get in touch with him at anytime without worry. When I had passed and completed my Class 2 and CPC it was so nice to be told by Richard that they are always there for me with any advice or issues throughout my career. It was also nice to just have a half an hour or so chat about life in general, it was like Richard had been my friend for years! I would recommend HGV Training Network to anyone looking to start a career, I will certainly be using them again for any future career development for myself. Thank you so much to HGV Training Network and Richard! I am now in the process of moving over to distribution side at the place I work to work on the lorries and I can't wait! Aaron first time passer Class 2 and CPC

I went for my 2 day HIAB Training. Everything from booking my course to doing my course was smooth and hassle free. Great training and perfect communication. They even helped my find jobs straight away. Fully recommended.

Only good things to say, professional throughout with clear information given. Good support and able to answer any questions I had, can only recommend.

A big thank you for making it so easy and stress free to get my cpc. Everything was organised and done with plenty of information and advice, leaving me to just do the studying and turn up. Richard is fantastic to deal with, with a great friendly manner. His advice, knowledge and expertise was a great help. So happy I chose hgvtraining and had Richard as my contact.Richard thank you, very much appreciated and thanks for all your help.

Eventually I struggled to find ALLMI lorry loader training for unlimited weight but once contacting HGV Training Network they were quickly able to identify and arrange excellent course for me. You'll pay premium for the service but in this case it was definitely worth it. Communication was always clear and I had a feeling of being looked after.

Sami Lansikallio
05-07-21
In no time they booked me straight away to have my cpc training done, always communicating up to test and after .Don't hesitate to call them ,you would not be let down.

Booked all my training through HGV network and passed all my theory and practical exams first time. Couldn't be happier with the support, learning software and professionalism I received from HGV training network. Richard was supportive and guided me through each step and ready to help answer any questions I had. Thank you HGV training network for helping me get my class 2 license.

Richard was an absolute pleasure to talk to. Very well informed and explained everything clearly. You of course pay more than you would if you done everything yourself but the knowledge they have was more than enough to justify the price, and they even offer advice to you after you've completed the course and in your first job. Would definitely recommend to anyone looking to get their license but don't know where to start.

Elliot McQuiston
10-06-21
I think it was value for money to get my HGV2. Richard was very helpful and the whole procedure from my therory and hazard perception test to the two days driving and final test was very slick. The online CPC was fun and informative. The whole procedure from start to finish was easy. I looked into doing all the steps by myself and would have strugled so the HGV training network has worked for me. Finished CPC course on the Saturday and have already been put forwad for work.

Hi everybody, I would recommend HGV Training Network to any old or new drivers, because they got me through my Theory Test and my Driving Test 1st time. The support and advice they gave through the whole of the training was outstanding 110%. Obviously we all got hit with COVID19 which delayed my test for 14 months. I asked if I could extend my Theory Modules this was done straight away, which for me was excellent as I had nothing else to do. I would like to extend my extreme gratitude to Richard and Chris for all their understanding and patience especially for putting up with ME over the last 14 months. ☺☺☺ (you know what I mean Richard) Well done lads you deserve a medal. Thank-you again and I will be doing my C+E with you lads in the very near future without a doubt. Sorry lads but it's not over yet!!!. (Ha-Ha)

Great professional service. The all process was very easy and the team supported me every step of the way, despite all the delay the covid caused I was always up to date with my progress as the team kept updating me all the time. A special thanks to Richard and Chris for guiding me throughout the process and getting back to me every single time I had questions or concerns. I would recommend HGV Training Network to anyone interested in becoming a professional driver.

Antonio Catapano
24-05-21
They were great through and through. Highly recommended.

I would like to thank to Chris and Richard for all of their support during the refresher and the assessment afterwards! With HGV Training Network, one will never feel left behind!

I couldn't speak more highly of the company. They were with me every step of the way from taking my medical all the way up to passing my Cat C practical driving test. Chris & Richard were very encouraging, friendly and helpful throughout the process. I felt capable and ready for every stage and I have them to thank for it. Would strongly recommend them for anyone who wants to become a professional driver.

Hi, I just received my CPC card this morning and wanted to provide some feedback on the process. I'd like to start by saying that you went way beyond my expectations. Starting from the initial conversation with Eric, where he provided clear and specific advice to me, tailored for my circumstances and managed to save me money into the bargain. During the process, Richard continued to provide excellent service, making sure that I had all I needed. Any scheduling questions were answered accurately and he always came through with any promises he made, quickly and with a solution, even calling me on a Sunday before a training day on the Monday. It made the whole process pleasant, seamless, clear and a pleasure to work through. I will (and have) recommend you guys to anyone who's looking for this type of training. I can't thank you enough! Thanks, Dave...

Absolutely fantastic service. Richard and Chris were both extremely helpful, they could not do more to make it easier every step of the way. Ask for Richard and Chris by name. You will be amazed with the customer service, and with the whole experience from start to finish. 10/10 recommend! Thanks a bunch!

I was looking for on the job training and came across an advert on Indeed. I sent in my details alongside a few other applications and within days, might have even been the next day, HGVTN contacted me and we had a lengthy conversation. All my questions were answered even though I probably seemed like I wasn't going to train with them. As you might have guessed I changed my mind and haven't looked back! I think I have spoken to all if not most of the chaps in the office and their customer service is fantastic, so attentive and personable. I really feel like they care about the service they provide and even as far as whether I succeed in the industry, I'd definitely attend their staff party!

110% recommend using HGV training network. Richard and Chris are really good to talk to and help you through every step of the way. Richard always kept me up to date after every step and helped me achieve the best I could. They booked everything for you and give you all the materials you need to pass! I passed everything first time and passed within 90 Days! Would of been a lot quicker if it wasn't for the delay of COVID! If you want a very quick, very friendly service, these are the guys for you. Thanks again guys.

Fantastic company. Incredibly comprehensive service with fantastic people and resources. Big thanks in particular to the good humoured and friendly Richard, who ensured I was called an hour or two after completing each part of my training to check how I'd got on and had me swiftly booked in for the next stage of my training. Couldn't speak better about these guys. Cheers.

Great service. I did a refreshment course. After that Richard help me to find job. Thanks.

The company has been brilliant since day one, from my initial phone chat they have been professional and reliable and helped with any queries I had. Richard has been fantastic booking all of my courses and arranging everything for me so I didn't have to worry about anything, he has also always been there to answer any questions I have regardless of how silly they may seem! I would highly recommend this company as they go above and beyond for you and genuinely want to see you pass and do well.

Alice Harris-Clarke
09-10-20
Fantastic training provided, I want to first of all say massive thank you to Richard, Chris and Eric and all the background staff for all the support and guidance they gave me throughout the whole process. This great humans made it so easy for me, hassle free, no stress whatsoever. Did all the bookings and spoke to me in detail about the whole process. Answered all my questions with ease and gave professional, helpful advice. I passed my Theory test, Hazard perception, CPC mod 2, CPC mod 4, HGV Class 2 practical driving test first time round. So this goes to show these guys are doing something right. Right now I'm over the moon so don't really have much else to say. But what I can say is that I most definitely recommend doing it with these guys. If you want to become an HGV Class 2/1 driver... please check out this Organisation HGV Training Network, they are the best in this business. Thanks so much HGV Training network.

Great service from Richard and Chris! Delighted to have passed first time and now looking forward to a career as a driver. Thanks again!

David Ballantyne
29-09-20
They did great job for me to get my cpc.They are professionals, serious and reliable.GO TO THEM YOU WILL BE SATISFIED

Thanks to Richard for all the help he gave in the course of the past seven months. There were times when the delays due to covid-19 were quite dispiriting, however Richard was always upbeat and kept me going when things got tough. The course itself is very well organised and it would be difficult to improve on the quality of the training, whether on the theory tests or the practical experience of driver training. Everything is well thought out for the benefit of the trainee and I could concentrate on learning everything that was necessary to pass all tests and embark on another career. I would recommend this company to everyone for their professionalism and for how much they care for people.

Fab company, dealt with everything from medical to theory tests both CPC & other. And organised training for the practical and CPC. Easy communication, and got back to you straight away if needed. It only took so long due to covid-19 restrictions. There training enabled me to pass first time on EVERYTHING! Thanks Richard!

Throughout my training they have been extremely helpful in how to go about both theory and practical tests and keeping both friendly and professional. Very good value for money. Would highly recommend them to anyone looking to get their licence. They have helped me get through everything first time.

Very good service. Every I phoned I spoke to Richard who was very well spoken and clear ( as I am deaf in one ear and partially deaf in the other) I could understand every thing he said. i would thoroughly recommend this company

First of all I would like to open this review by saying a massive thankyou to Eric Thompson and Richard, for their professionalism,patience and understanding. I am currently working as a bus driver and I was looking for a change in career, but as I love driving I fancied the idea of getting my hgv license. This seem logical because I am not an office kind of guy , I prefer being on the road. Upon deciding that this would be my new avenue I went on CV library and I saw hgv network training. I proceeded and filled in my enquiry form. I received a call from my Eric Thompson who answered all my questions in great detail. The conversation was only meant to be short but in the end we both ended up talking about our personal circumstances and background. It was a genuine conversation and at no point did I feel Eric was trying to take my money or offer me a sales pitch. In fact it was quite the opposite he ended up saving me £700 in total, because he told me not buy unnecessary packages. He ended finding me a really good finance deal which I took out to my delight. Once I had taken this out Eric then passed me onto his colleague Mr RIchards who again was patient and answered all my queries and booked my medical as well as tell me what the next stage of the process would be. Mr RIchards even have me a follow up call to see if I had received my starter pack and even gave me an email containing his personal number so I could call him if I had any questions. However being a father with a relatively young family has its rewards and challenges. A week later I called hgv network because I had to cancel due to the sudden rising cost of child care and school activity. To my surprise both Mr Eric and Mr RIchards spoke to me with the same understanding as before we and both of them bent over backward to put me in contact with another colleague called Chris to issue my refund. To anyone looking to get into hgv I highly recommend hgv training network . They do care for you and honestly have your best interests at heart .They are a real company and their moral compass is spot on. In the near future I will definately be using them again. Thankyou once again hgv training network

Passed my c licence and cpc with hgv training network excellent people especially as the process was interrupted due to COVID—19. Richard was a great help, I would highly recommend to anyone thinking of doing hgv training in any capacity.

HGV Training network let me use their online tools. This has help me to gain my class 2 license. I would just to say massive thanks for all help and support I have been given by hgv training network team.

Jason Lee Pickles
07-08-20
Fantastic training provided. Excellent communication even though the day before my test we went into lockdown through COVID. First day they opened they booked me straight back in had my test and passed 1st time.couldnot thank these guys enough!

Peter Samuel Sewell
17-07-20
Just want to say first of all, thank you to Richard for all the support and guidance he gave me throughout the whole process. He made it so easy for me, hassle free, no stress whatsoever. Did all the bookings and spoke to me in detail about the whole process. Answered all my questions with ease and gave professional, helpful advice. I passed all my theory, CPC mod 4, HGV Class 2 practical test first time round. So this goes to show these guys are doing something right. Right now I'm over the moon so don't really have much else to say. But what I can say is that I most definitely recommend doing it with these guys. If you want to become an HGV Class 2/1 driver.. Ask for Richard.

Fantastic customer service from both Chris and Richard, I couldn't of wished for 2 nicer guys to help me through my class 2. They both knew what to say to calm me down when I was nervous. I wouldn't hesitate to recommend these guys to anyone who wants their hgv licence.

Jeffrey Forrester
21-02-20
The HGV training network have provided a first class service, supportive at every step of the way. I cant thank them enough. I would recommend them as I passed everything first time.

Great company , great staff and especialy manny thx to Richard , how was really profesional and helpful with our enqueries !!! I like to continue my experience with them in the future by making Class 1 licence

Daniel Cătălin Ionescu
23-01-20
Although It took me about 2 years to go from first sending off that application in the post as a naive, car-driving boy to becoming a world-weary, lorry-driving man, that was my own doing as I kept attending to other life matters. But, whenever I wanted to resume the next step in my HGV application, the company and my main middle man: Richard Allan, were always keen and quick to get me going. I never thought I could be a lorry driver. I'm not a manly, petrol head kinda guy. I was running out of viable career options and this seemed like my best bet. But the proof is in the pudding; I'm now off to begin a brand new and well paid career in a new city, all thanks to HGV Training Network and the ever helpful, ever personable Richard. Sign up with them and get truckin'!

Jamie Alexander Fergusson
10-01-20
If you have ever had any doubts or queries of where to start the process of getting your HGV license like me then HGVTN is most definitely the company you want to go with. When you first speak to them they will talk you through everything you need to know for the licence you are interested in and are able to answer any questions you might have in great detail with no pressure to take the course there and then, you can take some time to think it through etc. (You can pay monthly too) I wouldnt waste any time..just read the reviews!...get your course booked and change your life, it only took 91 days from booking my course to completing and passing everything first time with the help of HGVTNs comprehensive learning software and its very easy to use. They send you all forms needed which they talk you through filling out if needed and they book everything for you, you just need to turn up. I done mine around work which wasnt easy, especially when the week i had off work they unfortunately didnt have any instructors available for my 20hr practical course but HGVTN went out of their way for me and within a matter of 15hrs they found a private instructor for me who was extremely good. Once you finish your course HGVTN are still there for you if needed and also offer help finding you a job by sending your CV to companies they're connected with, they are committed to the haulage industry. I cant thank Chris and Richard enough for all their help and support throughout this course thanks guys

James Whittingham
17-12-19
If you've had the slightest thought of becoming an addition to the hgv drivers industry. Then take my word for it; it's well worth it. I've just passed today and it's all thanks to Richard from HGV Training Network who took me through it step by step and didn't lose contact with me along the way. If I had a question he'd always have a detailed answer to explain to me. Most other companies will give you the talk, take your money and not bother with you after they have your money - but not this one; the communications team have been brilliant! So all in all HGV Training Network is an amazing company to go with if your looking to get started on HGVs.

I joined the HGV training network to obtain my class 2 licence and couldn't be happier with the service provided. These guys go above and beyond to make sure you have the tools and knowledge you need to pass. I have to give a special shout out to Richard Allan who was with me from start to finish. He arranged all my training and my medical in areas that suited me and did so via very good communication with myself! He has even offered me help and support when and if I need it even after completing the training! Great company great service great guys. Highly recommend!

From the very beginning of my Class 2 HGV training through the HGV Training Network, all of the information that I required to complete every stage of the process was extremely thorough, well structured and easily accessible at all times. Communications were very frequent and up to date at every point along the way, and when booking times and dates for each element of the training the company had been entirely flexible and willing to assist in any way they could to secure me a slot which fitted in comfortably around my other routines. All of the learning material provided for the driving and CPC theory tests was in great abundance and very well presented so that it increased the likelihood of strong understanding and retention, and the likelihood of a first-time pass rate. From the learning zone dashboard on their theory website, you knew exactly how much progress you had made and which areas you either hadn't yet visited or perhaps needed to work on further, through clear diagrams and percentage indicators for all areas of the theory practice. There was plenty of scope for full test preparation in all cases (multiple choice, hazard perception etc) with practice scenarios very similar to what is encountered in the real tests. They had been extremely encouraging and supportive all the way through the programme, and consistently offered me assurance that I always had people to contact should I have found anything difficult or unclear. I would hugely recommend this company to anybody who wants to begin or extend their career in HGV driving.

Thank you to to team for all your help. From start to finish the process has been smooth and comprehensive. Nothing too much trouble, questions answered without any bother. Passed my mod 4 on monday and secured a job today! Brilliant, thanks again, especially Richard and Chris.

Hi Guys Everyone at HGV Training Network have been really helpful, explained everything and were on hand to help with any queries or questions. Got me through with 88% & 100% in my CPC Modules. Now they are helping me modify my CV get a new job, which they have links and contacts for jobs. Looking forward to seeing what I get. Highly recommended the team. Andy

Started training with HGV Training Network around March Took me 6 months to pass all aspects but along the journey I had plenty of support via emails and calls to Richard and Chris, they were always on the other end of the phone For any questions I had Now i have passed they have offered to help me get my dream job Also thank you to Elias for all your support throughout this journey Roll on the next chapter of my life
Fantastic service from start to finish, enabling us to get some needed cpc training hours booked and courses completed very quickly

Jamie Cole | Branch Manager | Travis Perkins Faringdon
16-09-19
The best and most reliable company. Recomand aceasta companie cu incredere.

They help me a lot to set up everything they worth every single pound

I have been extremely happy with the whole process from start to finish, It was well set out and very clear. I was in very good hands from the beginning. I would definitely recommend them and I passed first time.

Adam Nathan Beadles
13-09-19
I am very happy with the service I received and extremely happy with the customer services. I highly recommend the HGV Training Network. Thanks also to Richard, who looked after me from start to finish.

I'd like to say a big thank you to Chris and Richard for getting me this far, passed my driving test yesterday and have to wait now for my license to come back to then get on the next cpc course. I would recommend anybody looking for a career in driving to give these people a ring, they have explained everything to me in a way that has given me confidence, thanks again.

They really helped me from start to finish. Now I have my HGV licence. Its a crazy feeling. Thank you HGV Training Network

Patrick Michael Bray
22-08-19
I could not have been happier with HGVTN, they helped me through every step of the way. I was a first time driver so had to do the theory, practical and the CPC. The online theory learning was exremely easy to use and you could practise the exams as well. I want to say thank you to richard who i dealt with most of the time for his help and support throughout my time with HGVTN, it felt like i had known him years, he was so easy to talk to and approachable should i need anything. They didnt try and rush me through anything and i could do it at my own pace and fit everything around my current job. I am fortunate enough to have already secured a job through my current employers but HGVTN have a good network of employers who can help first time drivers make that first step. I would thouroughly reccomend HGVTN to anyone looking to become an HGV driver. Thanks to all at HGVTN.

Couldn't recommend HGVTN enough, brilliant from start to finish, no pushing from the team but always a phone call away if you need any advice or help. Made my process of getting my class 2 easier than i thought it would be. Thanks lads 🙂

Excellent service with very professional training managers. Step by step guidance through all training modules. I highly recommend this company for hgv training.

Steven Adam Smith
02-08-19
I completed a class 2 HGV license with them, a little pricey but easily worth it for all the help and autonomy provided by the excellent staff. Richard is a great help all throughout the preparation/training and uses his experience to provide some very informative advice.

Charlie Mountfield
02-08-19
Persistence pays off. So Happy to have passed. Next step is the CPC and then the road.

Kathryn Mary Nuttall
01-08-19
Thank you, I passed 2nd time round. Love to you all at the HGV Training Network.

Michael Chrisou Moustakas
29-07-19
Absolutely fantastic staff who really want you to pass and guide you in the right direction. I've passed my class C test second time (due to my nerves) but the support I got was amazing. Couldn't have done it without them. Highly recommend.

Thomas Porthouse
22-07-19
The HGV Training Network have made it a really easy process to go from start to finish, incredibly informative staff. Passed all 5 tests first time. It was a good experience overall. Thanks.

David Anthony Roberts
15-07-19
Great service from start to finish, Richard was very helpful along the way with some great advise, will definitely recommend to anyone looking at getting there HGV license!!

I received a really good service, they were friendly and helpful all the way through. All the training went through well and I passed 1 time. Thank you HGV Training Network.

Michael Joe Bray
04-07-19
Excellent service from start to finish. Richard kept me informed all times. Happy customer. Great job, well done.

From the initial contact to start our training using the on line tutorials right through to the practical test the experience has been truly first class, we would recommend them to any establishment that needs to have CPC Licence holders for their Minibuses

David Baines - Bursar - Cambridge and Rochester
28-06-19
Very helpful, great staff who genuinely want you to pass! Great bunch would highly recommend

Great company. Do absolutely everything for you which helps especially if you are a complete novice to the industry and you dont know everything you need to pass. Thanks a lot. Got my self a job in less than a week after passing everything.

From start to finish I found it comfortable and easy, all the information was available when needed. No question was to daft to ask, and they were always available when I had a question. They showed a great interest in my progress throughout the duration of the course. I passed my test first time. I would absolutely recommend.

Jon David Lapworth
11-06-19
I am happy to choice this CPC training company because they are professionals and really know their job. I pass module 2 and module 4 at first time they give me a really valuable practical theory. I just want to say a BIG THANK you to them and good luck in the future. I really recommend!!!

Robertas Bieliunas
28-05-19
Passed 1st time on everything. They took care of everything from start to finish. Very professional throughout. I highly recommend HGV Training Network.

Fabulous agency to help you pass your hgv/lgv. Richard was great!! Communication was great and they book All your tests around you! Instructors were very knowledgable and patient and made me feel at ease. They all helped me pass really quick!!! Highly recommended!

Richard and Chris have been mega throughout my training. They have always been available to talk things through and get me booked onto tests as soon as possible. I am super happy to have passed my driving test and ready and raring to start my new career

Stefan Kwasniewski
23-04-19
HIGHLY RECOMMEND HGV TRAINING NETWORK 5 STARS!!!! Superb spot on dedicated instructors and very thorough training and support throughout the entire process from start to finish. Its an excellent place to change your career into the right direction by doing your category C and C+E training. EXCELLENT VALUE FOR MONEY!!!!

Daniel David Hogan
15-04-19
Superb customer service and a great team! Richard has been a great help, start to finish he helped with filling out paperwork, booking tests and lessons. Training software which was provided proved very useful and helped me pass all theory tests first time!! With high marks too! The team will look after all your needs from start to finish. Would highly recommend HGV training network to anybody who is looking for a new career.

Matthew Jon Arbon
10-04-19
Everything was made really simple & easy. I wasnt sure on what I had to do but the team done everything for me which allowed me to focus on passing the tests. I passed everything first time. I dont see any reason why you don't deserve 5 out of 5.

Richard William Hough
02-04-19
Brilliant service. Richard and his team are very helpful and accommodating. They booked everything around me. Thank you.

Andrew Neil Findlay
02-04-19
Excellent services. Passed 1st time. Highly recommend!

Cristian Miculaiciuc
01-04-19
Brilliant support throughout, Thanks

Stefan Henryk Kwasniewski
26-03-19
Everything was taken care of for me. I always knew what I had to do next. Everything was made simple for me to understand. The HGVTN team took away the worry and stress, allowing me to focus on passing all my tests 1st time.

The support is great. They gave me theory software that was easy to use and helped me pass my theory test first time. I can't believe I have passed, I was so nervous at the start but once I got driving it just came natural and loved every second of it, I can't thank my instructor Ali enough he was absolutely brilliant and I can't wait to get behind the wheel again.

I would highly recommend using hgv training network. Everything I had to do went through Richard and From start to finish he helped me do everything, from filling out forms to booking tests and supplying easy revision material. They took away the stress factor of going through tests. If I knew other people that would want to do their hgv then I'd definitely push them in hgv training networks way. Thank You

Jamie Christopher Watkin
07-03-19
Everything was great. The whole process was made clear. The theory Software really helps. My instructor was excellent, Thank you. I passed first time.

Thanks for all your help in helping me become a professional driver, your support and positivity helped loads.

Benjamin Ian Rowley
25-02-19
Excellent customer service from Richard. he kept me up to date and answered any and all questions i had. Training software was very useful and helped me pass all theory test first time and with high marks. I would defiantly recommend

Very happy with passing. Great instructing from Nick and that made me feel all at ease. Thank you.

Nicholas Lee Fripp
21-02-19
When I first booked, I was unsure about a career change. Monica Convinced me that there was a place in the industry for women. I went through the training at my own pace and passed everything first time. Everyone was very encouraging and supportive throughout.

Excellent service. At first I was abit nervous about doing the training and wasn't sure on what I needed to do or anything but Richard was a great help. From start to finish he helped with filling out paperwork to booking tests and lessons. Nothing was to much for him and he really put me at ease. Would highly recommend HGV training network to anybody who is looking for a new career in driving.

I think the only reason I passed my test, was because of the help and support given from the start from the HGV Training Network Team. They were infinitely patient with me and helped me pass all the tests 1st time. Thank you.

Anna Jeanne White R.S.P.C.A
23-01-19
Passed all necessary Tests,Theory,Hazard Perception and Practical 'First' time. Great support,information,guidance and help from HGV Training Network (Richard was the contact I had for them) when needed. He gave me all the help and information I needed when I needed it. Would definitely recommend HGV Training Network to anyone looking to go for a lorry licence.

Passed first time! Couldn't have asked for a better company to get me through my HGV training! The process is explained in detail from start to finish and always there to help with any questions or queries you may have! Will definitely be recommending HGV TRAINING NETWORK to others! Thanks Guys!!

Sebastian Heathcote
18-01-19
Passed the test today, thanks for your help and best wishes for the future.

Christopher Palmer
15-01-19
HGV Training Network has been fantastic, helpful and friendly from start to finish. The staff are always on hand if you need any advice or support, to get you through your training. I passed all my tests first time with HGV Training Network and I would highly recommend them to anyone who wishes to start a new career! Thank you!!

I passed 1st time on all of my tests. I am very happy. Thank you very much.

Brilliant, passed everything first time in just 4 months, whilst working full time too. They make it very easy for you, explained everything over the phone, what paperwork to send etc. The software they send you to practice your theory is excellent, 5/5!

The theory test software is great & the reason I passed my theory. My instructor was friendly and taught me well. I passed first time. I would give HGV Training Network 5 out of 5.

Jamie Edward Gill
12-12-18
I passed 1st time on all of my tests including the theory. I would definitely recommend the HGV Training Network as they are quick to chase up on things. Overall a very friendly and proffessional service.

Lee David Brooks
07-12-18
Thank you guys, the communication was very very good. I would definitely recommend HGV Training Network.

HGV Training Network staff have been very helpful from start to finish, explained thoroughly how things work and provided all the material needed for learning for the theory tests. I wanted to get the licence asap and the guys at HGVTN booked all the exams accordingly, helped me to fill in all the paperwork etc. Also, there was never a time when they wouldn't answer a call, I called them whenever I had any questions and they were always there to help me. They would actually often call me themselves during the process and ask me how I'm doing with the learning. I definitely recommend this company if you want to become an HGV driver and don't know where to start (like I did).

Tomas Mgebrisvilis
03-12-18
HGVTN allowed me to trainin my own time and book my exams and training on days that were good for me. The theory software is brilliant and the instructor was friendly and patient.

Arran David Watt
30-11-18
HGV Training Networks service is very good. I have passed everything 1st time. The staff are very helpful. Thank you.

The training I have received has been fantastic. The team will look after all your needs from start to finish. I have made great use of all of the software that HGV Training Network have provided. From practice to practical the assessment training has helped me through it all, scoring very high in all my tests.

Was looking for a career change and contacted by HGV training network about doing my class c licence. They were very helpful and supportive every step of the way to gaining my license.

I passed everything 1st time and there were no problems. Everyone is professional and polite at HGV Network. I would recommend them to my family and friends.

Miroslaw Ireneusz Gmyrek
08-11-18
Everyone is professional and friendly. The theory app is really good. You can get cheaper training elsewhere but these guys really look after you book everything you need. All you need to is turn up and train or test. Thanks


They put together a good package for training. All very clear and great communication in between. They always helped when I was stuck with anything, and I passed all my tests first time.

Peter Charles Parnaby
02-11-18
More than delighted with the service provided.

The case study software is so good. Everyone is organised, good approach and contact with HGV Training Network. The instructor was great also. Thanks

HGVTN gave me everything I needed. Everyone there is very helpful. Special thank you to Chris my training manager.

Daniel Paul Baderick
31-10-18
From start to finish it has been smooth and easy. I haven't had to worry about a thing. They did everything step by step which made it easy to get through. I am over the moon with how it went. I Passed 1st time. Thanks

I am very happy with HGV Training Network, I am glad I chose them. I have passed my test now, thank you very much.

The instructor was fantastic, passed 1st time even though I was testing in rush hour. The theory software was easy to use also. Thanks.

I was looking for a new job and career change and looking through job options on sites like indeed and monster I came across the HGV training network after sending a message they quickly replied, very quickly my medical was booked at a centre very close to me which was very convenient and as soon as this was done the next steps we're very quickly booked now less than a year I'm a qualified lorry driver and can't wait to get started in my new career path. All the staff at HGV training network are very knowledgeable, friendly, and very customer orientated and they have a very wide training centre network the furthest I had to travel was only to Avonmouth from Gloucestershire. I would recommend this company if you want to move into HGV driving.

I would highly recommend HGV Training Network. From start to finish Chris has been with me all the way encouraging and extremely helpful - unfortunately I had to stop my course for a short period due to personal circumstances but when I picked this up again Chris was there to help and make sure I got back on track as quickly as possible. I do not hesitate in recommending HGV Training Network to anyone looking to take any of their courses.

It was a very enjoyable course, the instructors were very good and they went at a pace that enabled you to take in what was being said and to learn without the pressure.

Everyone is really helpful. The theory software makes revising easy. Chris was great with keeping me informed. I couldn't have asked for more.

Mitchell Steven Munro
28-09-18
HGVTN are very good. I would highly recommend. They gave me a step by step on what I needed to do. They are always available to speak to. Thanks.

Justin Matthew Darby
28-09-18
You have all been very friendly and helpful. The course info has been good and helped me pass my tests. I have enjoyed every minute of it and I would reccommend.

Karen Rebecca Flay
27-09-18
Everyone is really helpful, the staff were patient with me. I passed everything first time. Thank you HGV Training Network.

You done a lot more than i expected. The bookings team were easy to speak to and very helpful. The online software is great to help you study for the theory test. Overall Im very pleased.

You have been excelent in keeping me up to date with what I needed to do. The training software is excellent. Everyone is polite and helpful. Thank you very much.

Jacob Simon Fitzgerald
20-09-18
HGV Training Network are really easy to work with + very helpful when I needed them. Mark was really good with me and helped me get through the early stages. I have already recommended you to one of my friends. Training was absolutely fantastic. Paul the instructor was extremely patient with me despite me making mistakes throughout the week. Paul was seriously brilliant. I passed 1st time. 🙂

Can't fault the instructors. They taught me well and got me the pass. Thank you

Philip Stuart Eyers
14-09-18
Very nice, very polite. Always kept me calm. Good Trainers that were very helpful. The whole experience was nice. Thank you very much

Its been very good, HGVTN have got me to where I want to be. Thanks

Zacary Robert New
13-09-18
Everyone was very helpful and gave me confidence to pass when I needed it. I would recommend.

Liam Leslie Rawson
13-09-18
It was a very quick process and it was really easy to do. The team was really helpful and I passed all my tests 1st time. I would recommend to anyone.

Simon Wayne Skidmore
12-09-18
It has been brilliant from start to finish, staff are friendly and the process is easy to follow. The revision software is really good too. Thanks for everything.

Jordan Lee Atkinson
12-09-18
Our instructor was really calm and clear during the training and helped to build our confidence with driving vans. I would recommend his training to anyone driving vans, whether beginner or experienced. With many thanks

Katie Payne (Parkinsons UK)
12-09-18
I have really enjoyed everything from start to finish. It has been a pleasure going through the whole process step by step. I passed all of my tests first time so far and I now have my class 2 licence. Thanks

Luke Reece Saunders
06-09-18
Thank you for helping me pass my hgv test. The Staff have been ultra helpful and very efficient. I am going to do my class 1 with them also. Thanks alot guys.

I am very happy and training was very professional. The instructor was highly skilled and made me feel very comfortable. He answered all my questions and I passed first time. Good Training.

Zbigniew Wilczarski
06-09-18
Highly Recommended, a friendly, professional service from start to finish. Stop thinking about it and just do it! I'm really chuffed. Thank you

I am very happy I passed 1st time. HGV Training Network did a very good job. Thank you

I passed class 2 on my 2nd attempt, but without the helpful hgvtn team, i would have not passed at all. I am happy I did it with them and i would recommend to everyone wanting this licence.

The service has been fantastic, I passed first time too. The online modules have also been great. the way its done really helps build up your confidence, provided you study for it properly.

Nathan Lee Davidson
14-08-18
Thank you, This course has done my career so many favors. I passed first time and cant wait to start my new career.

The staff explained everything really well over the phone, all the info they gave me was really helpful. they did all the bookings and were really helpful from start to finish. all i had to do was turn up. I managed to pass all tests first time.

Adam Dashwood-Evans
10-08-18
A perfect - class 2 test - not even 1 minor fault

Its been good, ive enjoyed the driving and they have helped me with everything i needed to know

Darren Leslie North
10-08-18
Passed my test today, fantastic day and a great result. Thanks

James Simon Lewis
08-08-18
Very professional staff, good teaching techniques and overall a good learning experince

Gregory Richard Bickle
05-08-18
I would recommend HGV Training, because they are willing to do what they have to for you to succeed. With out them i would not be where i am now. Thank you to all the team.

Steven Peter Petrie
03-08-18
It all went well. Thanks for Everything.

HGVTN covered everything for me, including the training + cpc and theory tests. They were very helpful and answered any questions i had. Thank You HGVTN

Tony Allen Black
01-08-18
Right from the start, they have provided me with everything they said they would. Everything has gone smoothly. I was very satisfied from start to finish, I would recommend HGV Network to anyone looking to do this.

I am very happy with how it went and the final result. Monica and Chris were very helpful from start to finish. I am so happy, it hasn't sunk in yet. I would definitely recommend.

Very friendly professional company, made sure any queries were answered in full. Would definitely recommend to anyone considering getting training.

Great advice. passed 1st time on everything. They took care of everything from start to finish. Thanks hgvtn!

Helen Rebecca Edmonds
20-07-18
I like the fact that they took care of everything for me, made it hassle free. This gave me alot more time to study for my theory test and cpc module 2. I passed first time.

The whole process was straight forward and easy. passed my test first time. 5 out of 5 rating. A special thanks to Monica and Chris who were extremely helpful. Thank you.

Been great from start to finish, passed first time and would definitely recommend them.

Nerve wracking, heart rendering, but an amazing achievement and I'm very proud of myself. Thanks

Really great company, very helpful would recommended 100%. With their tools and training I passed my theory and practical 1st time.

The team at HGV Training Network made the whole process very straightforward. I already had my medical and provisional but I was a bit wary about shelling out so much money online but they reassured me and gave me all the information I needed to do so with confidence. Chris got me started with all the learning materials and made booking for my Theory and Hazard Perception at earliest opportunity. Passed those in a fortnight at a venue close to home then he put me straight in for driver training. Rick in Newton Aycliffe was great and after three days of intensive training in for my test ..... BOOM! Passed Class C first time less than 2 months after starting the whole thing off!! Now for my CPC and if the support in finding work with HGV Training is as good as the rest of the experience I'm really looking forward to starting my new career in no time. Bring on C+E!!!! Thanks guys!