Holly and Kate are youngest women to get HGV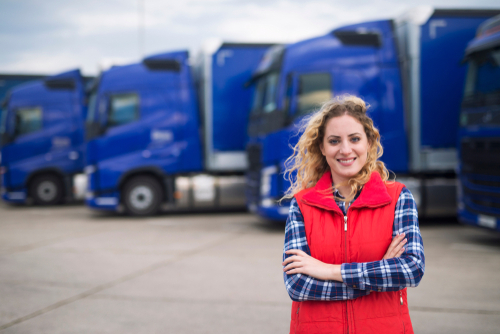 Two sisters are making it in a man's world – after becoming the youngest women to qualify as LORRY DRIVERS.
Holly Bowers, 20, and her older sister Kate, 22, are in the fast-lane to success having become the third generation of their family to pass their HGV licences.
The pair have followed in the footsteps of dad Martyn, 46, and grandad William, 72, to work for family firm TLP Group in Staffordshire.
Holly previously worked as a racehorse trainer but when she was thrown from a horse and broke her ankle last July, she was told she would never ride again.
She decided to follow her older sister Kate into the family business, initially obtaining her forklift and scissor lift licences – and now becoming a truck driver.
She is believed to be the youngest woman ever to obtain a class one licence, allowing her to drive the heaviest goods vehicles up to 44 tonnes.
Holly, from Talke in Staffordshire, said: "I was so chuffed and surprised to pass my class one. It was difficult.
"I wanted to work with racehorses but after the bad accident, I couldn't ride again.
"So my dad offered me this job, and I passed my class one last month."
Sister Kate, from Smallthorne, Stoke-on-Trent, had already obtained her class one licence last July.
"I was surprised to get my class one licence because I found it difficult to get my class two," she said. "But I feel very happy about it.
"I started at TLP when I was in college, washing the trucks. Then I became full-time. It's good because it's a small family business."
Grandad William, who founded the distribution company 27 years ago, described Holly as a "natural" lorry driver.
"One of the things that excites me is that Holly did not join us until July," he said. "She loved her job training racehorses.
"But she has passed her licences in a very short space of time – she's a natural."
William's son Martyn has been a lorry driver for 25 years, and is now a director of TLP Group.
"Dad needed some help with the business so the family became involved," he said.
"And in the last five years my daughters have become involved as well.
"Few HGV drivers are young people, and there is a demand for people with the licence.
"We didn't think they would pass because the test is so intense, with 40 hours' training for class two, and an additional 20 hours for class one."
Source Birmingham mail