HGVs, or heavy goods vehicles, are a staple on British roads. They transport everything from food and clothes to construction materials and waste. If you're thinking of becoming an HGV driver, there's a lot you need to know. Here's an insight into what it takes to build a career driving an HGV in the UK.
The Basics of Driving an HGV
First things first, you need a special licence to drive an HGV. Getting your licence can take up to two months, so it's important to plan ahead. You will need to pass both a theory and a practical driving test. The theory test covers topics such as vehicle safety and the Highway Code. The practical test is similar to a regular driving test but with added challenges specific to HGVs, such as reversing a large vehicle into a loading bay.
HGV Drivers' Hours Regulations
In addition to the basics of driving an HGV, there are regulations surrounding how long you can drive without taking a break. These are known as drivers' hours' regulations and they're there to keep drivers and other road users safe. The rules are complex, but state, for example, that drivers must take breaks after 4.5 hours of driving – these breaks can be either 45 minutes long or split into two shorter breaks of 15 minutes followed by another 30 minutes spent doing something else (like eating or resting). Drivers are allowed no more than 56 hours behind the wheel in one week, with a restriction on how many hours they can drive each day.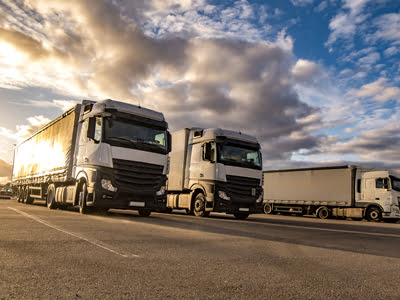 Control System
When driving an HGV, you must be in control of the vehicle at all times. This means that you need to concentrate on the road to avoid causing an accident. Safe driving is even more important when driving an HGV, as they're larger, heavier, and more of a threat to other road users than other vehicles.
HGV drivers must have a good understanding of their vehicle's control system and its limitations in order to drive safely and effectively. For example, many HGVs have speed limiters on board to prevent them being driven too fast. They also have safety features such as rear-view cameras, reversing cameras and so on to help drivers manoeuvre their vehicles safely and negotiate hazards such as blind spots and turn restrictions at intersections. A large part of your HGV training will be focused on ensuring you understand how to use these control systems so you can drive safely around other vehicles on the road.
Bike Safety
Again, for HGV drivers, it is especially important to be aware of cyclists on the road. Due to the size and weight of HGVs, they can be difficult to manoeuvre around tight spaces and are more likely than other vehicles to cause an accident with a cyclist. As a result, all HGV drivers need to take special care when driving around cyclists and take measures to ensure their safety. This could include leaving extra space between the HGV and cyclists, avoiding sudden lane changes, and being aware of cyclists' signals.
Congestion Charges
It's important to be aware of congestion charges in the UK. Congestion charges are fees imposed on vehicles entering certain areas at peak hours and are in place in order to reduce the volume of traffic on city roads. HGVs are often subject to these charges due to their size and weight, so drivers need to know where they apply and what they will need to pay in order to drive legally.
HGVs play an important role in keeping Britain moving – but before you jump behind the wheel of one, there's a lot you need to know! From getting your licence to following driver's hours regulations, there are many things potential HGV drivers need to keep in mind before hitting the road. By familiarising yourself with the basics before getting behind the wheel, you can help make Britain's roads safer for everyone involved.
Keep Up With the Latest in HGV Training With Our Blogs!
We hope you enjoyed this large goods vehicle blog and learned something new. If you liked what you read, please consider reading more of our HGV Training blogs like what is The Best HGV Training Cost to Help You Start Your Career. We have a lot more content on the way!
If you have enjoyed what you have read, please follow us on social media! We'd love to connect with you and share more of our work.
You can find us on Twitter (@HGV_Network), Facebook (@HGVTrainingNetwork), and LinkedIn (linkedin.com/company/hgv-training-network).
Start Your Driving Career Today With HGV Training Network
At HGV Training Network, we can help you start your driving career today.
Get a FREE quote for training and find out more about our services. Our experts are ready to help you find the right course for you.
We're available by phone on 0800 254 5007 or 0203 869 9001, or you can email us at contact@hgvtrainingnetwork.com.
HGV Training Network – The UK's Leading HGV Training Provider
HGV Training Network provides high-quality HGV training in the UK. We offer training for all levels of drivers, from new applicants to experienced professionals. Our staff are experienced and knowledgeable, and we're proud to offer competitive prices, including flexible payment schemes.
Looking For Answers About HGV? Check Out Our FAQs for All the Information You Need
How do I become an HGV driver?
There are a few ways to become an HGV driver. You can either go to a driving school, apply to a trucking company as an intern and work your way up, or get hired by a trucking company as a driver and then go through their in-house training programme.
No matter how you go about it, you'll need to pass both a written test and a practical driving test in order to become certified to drive an HGV. The written test will cover topics like vehicle safety, traffic laws, and hours of service regulations. The driving test will be more specific to trucks than the standard UK driving test and will assess your ability to operate an HGV on the road safely.
How much does it cost to become an HGV driver in the UK?
There is no definitive answer to this question as it can vary depending on several factors, such as the type of training provider you choose and the level of certification you aim to achieve. To get a free quote, don't hesitate to talk to one of our staff. We can provide you with the best advice on which type of training suits your individual needs and the cost associated with it.
How long does it take to train as an HGV driver?
The first step is to attend and complete an authorised training course. The duration will depend on the type of HGV licence you're aiming to get.
Upon successful completion of the course, you will be issued a certificate of competence. You must then pass a medical examination and a driving test in order to be awarded your full HGV licence. This process can take up to 8 weeks.
So in total, it usually takes around 6-8 weeks to become a fully qualified HGV driver.
Is it worth becoming an HGV driver in 2023?
Yes, it is well worth becoming an HGV driver in 2023. There is currently a shortage of HGV drivers in the UK, and this is only set to worsen in the coming years. So there are plenty of job opportunities for HGV drivers, and the pay and benefits are good.
In addition, the job is interesting and challenging, and it allows you to travel around the country. So if you're looking for a good career that offers plenty of opportunities and rewards, becoming an HGV driver is a great choice.
Is driving an HGV difficult?
Driving an HGV is relatively easy, but it takes a lot of practice to become a safe driver.
The most important thing for anyone learning to drive an HGV is practising in a safe and controlled environment. Make sure you are comfortable with the truck before you hit the open road. Remember that large vehicles take longer to stop, so always give yourself plenty of space when driving around other cars. Stay alert at all times and be aware of your surroundings. Safe driving is critical when operating a large vehicle.