The East Midlands has been named as the Best Region in Great Britain to be an HGV driver.

Research company NimbleFins analysed data from the Office for National Statistics (ONS) to compare regions on 3 factors important to large goods drivers: average pay, availability of jobs and how expensive an area is to live. https://www.nimblefins.co.uk/business-insurance/lorry-insurance/best-places-hgv-drivers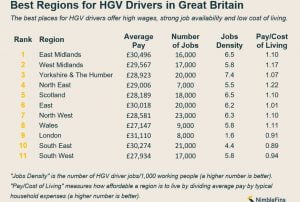 East Midlands is the Best Region for HGV Drivers
The East Midlands was the clear overall winner, offering HGV drivers higher pay, many jobs and more affordable living costs for everyday expenses like housing, food, transportation and entertainment.
Average Pay
In terms of the first factor—pay—HGV drivers in the East Midlands earn an average of £30,496 a year, which is the second highest in Great Britain.
The only region where drivers earn more is London, where average pay is £31,110.
Jobs
There are many HGV jobs for jobseekers in the East Midlands. In fact, there are 6.5 HGV jobs for every 1,000 working people in the region, which is 11% more than the UK average. (This is called "jobs density".)
The only region with a better jobs density is Yorkshire and the Humber, where there are 7.4 HGV driver jobs for every 1,000 working people. At HGV Training Network we offer job support with all of our HGV training courses aiding you to take advantage of the jobs available across the UK.
Affordable Living
The East Midlands is a pretty affordable place to live, so a driver's wages go further than in more expensive places.
To compare how well an HGV driver's pay will cover living expenses like rent or mortgage, food, transportation costs, etc., NimbleFins adjusted wages by the typical cost of living in each region to get a "Cost of Living" ratio.
A higher "Cost of Living" ratio is better and means a driver should have an easier time using their wages to pay for living expenses. The Cost of Living ratio for the East Midlands is 1.17, which ranked fourth behind the North East, the West Midlands and Wales.
Other Good Regions for HGV Drivers
After the East Midlands, the next best regions for HGV drivers are the West Midlands and Yorkshire & the Humber.
The West Midlands stood out for being the most affordable place to live on an HGV driver's salary. However, in the West Midlands there are fewer HGV driver jobs per 1,000 working people so it might be harder to find a good job.
Yorkshire and the Humber is strongest in jobs density, which means there are more HGV driver jobs per 1,000 working people than anywhere else in Great Britain. However, lower pay means HGV drivers might have a harder time paying their bills.
Already a HGV driver looking to increase your earning potential? At HGV Training Network we offer HIAB training and ADR training allowing you to gain new skills and take on better-paying jobs.
View our locations page for our full list of locations for HGV training across the UK.