When driving a large goods vehicle, it's important to take extra care on the roads. Not only are they bigger and heavier than other vehicles, but they can also be subject to more strict speed limits. If you're caught speeding in a lorry or van, you could face hefty fines and potential licence disqualification. That's why all drivers of large goods vehicles must receive proper training to help them stay safe and legal while on the road. Let's take a look at how HGV training programmes can teach you about avoiding speeding fines.
Speed limits for large goods vehicles
The first step in avoiding speeding fines is understanding the speed limit for your vehicle. This can vary depending on whether you're driving on a motorway or single-carriageway road, as well as what type of vehicle you're in. For example, HGVs weighing over 7500kg are limited to 50mph on single-carriageway roads and 60mph on dual-carriageways and motorways, which is lower than the national speed limit for cars (70mph). HGV training programmes cover all of this information so that drivers understand the rules before they get out on the road.
Enforcing speeding fines
It's not just understanding the speed limits that will help you avoid fines – it's also knowing how these limits are enforced. For instance, HGVs may be subject to average speed cameras – these measure your average speed over a certain area or route rather than one specific point – as well as roadside police checks. HGV training programmes cover all of these enforcement methods so that drivers understand when and where they might be checked for speeding offences.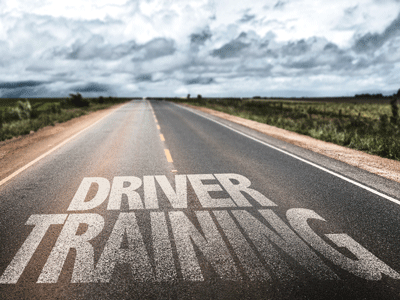 How to stay safe and legal on the road
In addition to teaching drivers about speed limits and enforcement methods, HGV training courses also focus on other ways to stay safe and legal while driving large goods vehicles. For instance, drivers will learn how to conduct regular maintenance checks which ensure their vehicles remain in good working order throughout their journey. They will also learn how to carry out pre-journey checks which help them plan routes safely. And finally, they may learn about statutory rest breaks which keep both themselves and other road users safe while they travel long distances. All of these topics are covered in detail during HGV training programmes so that drivers have full knowledge of what is expected of them when behind the wheel.
In short, HGV training programmes provide comprehensive coverage of everything related to staying safe and legal while driving a large goods vehicle. Through classroom instruction and practical driving experience, drivers learn about relevant speed limits, enforcement methods, maintenance checks, pre-journey planning, rest breaks, and more – all topics that are vital for avoiding expensive speeding fines and potentially ending your career as an HGV driver. Ultimately, completing an HGV training programme helps ensure safe journeys for both truckers and other road users alike.
We are always updating our blogs to keep you up to date on the latest trends in HGV training!
Thanks for taking the time to read our large goods vehicle blog post; we hope you enjoyed it. If you did enjoy what you read today, consider reading more of our HGV Training blogs like this one: Get your HGV licence with HGV training. In the coming weeks, we will have a lot more content to share with you. We would love to connect with you and share more of what we are up to with you.
There are many other places to find us online, including Twitter: @HGVTrainingNetwork, Facebook: @HGVTrainingNetwork, and LinkedIn: @HGVTrainingNetwork.
Take the first step towards a rewarding driving career today by registering with HGV Training Network today
If you are interested in starting a career in trucking with HGV Training Network, we can help you with that. We offer a FREE consultation and quote for training, so if you want to learn more about what we provide, contact us. Our experts are ready to help you find the right course for you.
If you would like to reach us by phone, please call 0800 254 5007 or 0203 869 9001, or you can email us at contact@hgvtrainingnetwork.com .
HGV Training Network – A leading provider of HGV training in the UK
We are HGV Training Network, the UK's leading company for HGV training for large goods vehicle drivers. We provide training for HGV drivers and operators throughout the UK. Whether you're a new applicant or an experienced professional, we have training available for all levels of drivers. With a team of experienced and knowledgeable personnel on hand, as well as flexible payment options available, we're proud to offer competitive prices and services.
If you are searching for answers about HGVs, you've come to the right place. Check out our FAQs for all the information you need
Can you tell me how I can get a job driving heavy goods vehicles?
To become a driver of a HGV vehicle, there are a few ways to go about it. If you want to obtain your HGV licence, you have different options: you can go to a driving school, become an intern at a company and work your way up the ladder, or you can be hired by a trucking company as a driver and then be trained in-house by them.
Regardless of the route you choose, if you intend to drive an HGV in the future, you will need to pass both a theory test and a practical driving test in order to become certified as a HGV driver. You'll find that the theory test will cover topics such as vehicle safety, UK traffic laws, and hours of service regulations. An HGV practical driving test is more tailored to trucks than the normal UK driving test and is one that will assess your ability to drive safely and securely in a heavy goods vehicle.
What is the cost of becoming an HGV driver in the UK?
It is difficult to give a definitive answer to this question because it can depend on several factors, such as the type of training provider you choose and the level of certification you aim to achieve. Please contact us if you would like to receive a free quote from one of our employees. Upon receiving your request, we can provide you with a detailed explanation of the various types of training and the costs associated with them so that you can make an informed decision.
What is the length of training for HGV drivers?
The first step is to attend and complete an authorised training course. The duration will depend on the type of HGV licence you're aiming to get. Upon successful completion of the course, a certificate of competence will be presented to you. A medical examination and a driving test must then be passed for you to be awarded a full licence for driving heavy goods vehicles. It may take 8 weeks or more to complete this process.
So in total, it usually takes around 6-12 weeks to become a fully qualified HGV driver.
Is it worth becoming a HGV driver in 2023 if you have no experience in the field?
It is well worth becoming an HGV driver in the coming year. A shortage of HGV drivers exists in the UK at the moment, and the situation is only set to worsen. Therefore, there are plenty of job opportunities for HGV drivers, and they can expect good pay and benefits.
Also, you will find the job interesting and challenging, and you will be able to travel around the country as a result. HGV driving is a great career choice if you're in search of something that offers you plenty of opportunities and rewards, as well as a steady income.
Is driving an HGV a difficult task?
It takes a lot of practice in order to become a safe driver of an HGV, but driving an HGV itself is relatively easy.
There is no doubt that practising in a safe and controlled environment is the biggest benefit when it comes to learning to drive a heavy-duty truck. Before you hit the road, make sure you are completely comfortable with the truck. Please keep in mind that large vehicles take longer to stop, so always give yourself plenty of space when driving around smaller vehicles. Make sure you stay alert at all times and are aware of the surroundings around you. When operating a large vehicle, safety is of the utmost importance.